Wuthering Heights - Stanley Flat - Clare Valley SA
Gaelic Cemetery Rd, Stanley Flat SA 5453
Pet Friendly Accommodation - Holidays

Pet Friendly Cottages/Houses
Pet Friendly Country Getaways
Pet Friendly Wineries Accommodation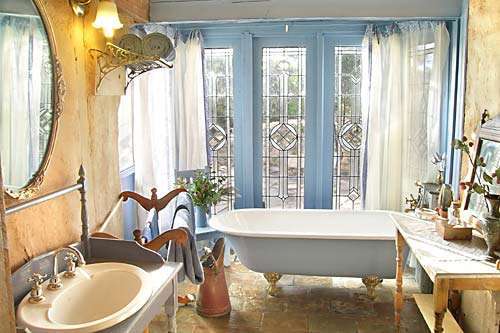 Peace, seclusion, serenity Bronte Manor Open wood fire 360-degree uninterrupted valley views Two claw foot baths plus shower Guest cottage 10m from Bronte Manor with queen sized bed, pot belly stove, sofa and small ensuite. Meandering walks amongst the trees. Glen Morris Pot belly stove Tuscan-style breakfast room French doors onto back courtyard Elevated front veranda overlooking creek Shower
Pricing Information
Bronte Manor (key to pricing table below)
No. of nights based on two adults occupying
one ensuite room/ 2nd ensuite/ Total
1 $190 $110 $300
2 $380 $140 $520
3 $520 $220 $740
Glen Morris (2 bedroom cottage, sleeps 4) - one night
1-2 adults - $160 ($150 for weeknights)
Extra Adults - $30 per night
Two nights:
1-2 adults - $330 ($300 during weeknights)
Extra Adults $30 per night
Three nights:
1-2 adults - $420
Extra Adults $20 per night
Cathy's Cottage
Rates Per Couple:
One night: 1-2 adults - $140 ($130 for weeknights)
Two nights: 1-2 adults - $280 ($260 for weeknights)
Three nights: 1-2 adults - $340
Four nights: 1-2 adults - $420
Dogs
Flat fee of $20 charged for dogs irrespective of no. of dogs or length of stay.
---
Contact Information
Enquire Now
Gaelic Cemetery Rd, Stanley Flat SA 5453
---
---
Catering For
---
Description
Bronte Manor is one of two heritage-style cottages set amidst 35ha of rolling hills and trees at Wuthering Heights. Ideal for romantic getaways or larger gatherings, it's also a wonderful holiday treat for the well mannered family dog!Bronte Manor features two queen bedrooms with French doors opening onto the terrace, two bathrooms, each with claw-foot baths, baronial living room with open fire and a large, well stocked country kitchen.Glen Morris is a two-bedroom mud brick cottage with Tuscan-style breakfast room, pot belly stove, slate patio and elevated veranda located by a creek lined with century-old gums.
---
Our Features
Ceiling Fan/s
Air Conditioning
Gas Heating
DVD Player
Foxtel/Satellite/Cable TV
Stereo System/CD Player/MP3 Player
Dining Setting
Microwave
Fridge/s
Tea/Coffee Facilities
Quality Appliances
EnSuite/s
Electric Blankets
Linen (Supplied)
Clock/Radio
Shower/s
Bath
Hair Dryer
Separate Toilet/s
Clothes Dryer
Ironing Facilities
BBQ Facilities
Courtyard
Outdoor Entertainment Area
Outdoor Furniture
Off-Street parking
Cot Available
High Chair Available
Walking Trails
Continental Breakfast Provisions
---
Location Map