---
Congo Camp House - Meringo - South Coast - NSW
Collett Pl, Meringo NSW 2537
Pet Friendly Accommodation - Holidays

Pet Friendly Beach-Houses/Cottages/Apartments/Cabins/Caravan Parks/Motels
Pet Friendly Cabins/Chalets
Pet Friendly Camping
Pet Friendly Cottages/Houses
Pet Friendly Country Getaways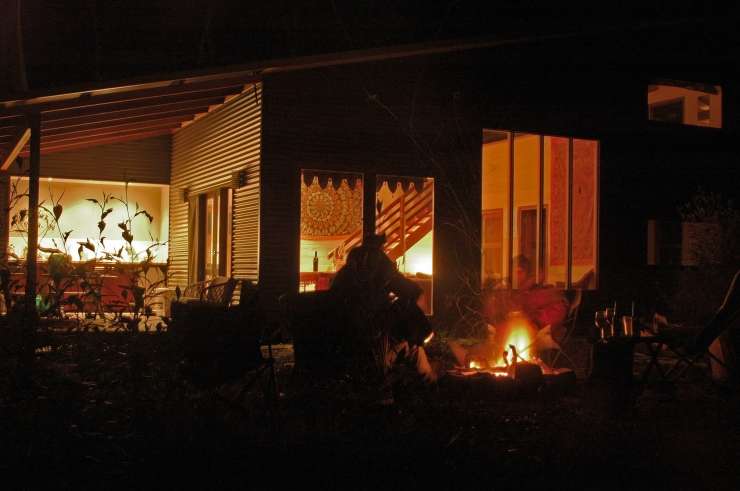 Rustic, character filled, architect designed cabin with a master loft and two small bedrooms constructed largely from recycled building materials, located on five acres of forest close enough to the ocean you can hear it in the distance.
Pricing Information
Congo Camp House sleeps up to 6 Guests
Price is $180 per night
---
Availability
Available
Unavailable
School holidays
Public holiday
---
Contact Information
Enquire Now
Collett Pl, Meringo NSW 2537
---
---
Catering For
---
Description
Congo Camp House is a beautiful architect designed cabin located in five acres of eucalypt forest 1.5 kilometres from the beach. It's close enough to the beach you can hear it! There are seven wild, frequently deserted beaches, all within the Eurobodalla National Park, that are within eight minutes drive with the closest being only four minutes away, door to sand...Because it's not really a house, like a normal house, and because there's a real "outside inside" feel and because most people spend their time sitting on the kitchen deck or around the fire pit it became known as the "Camp House". For those that love the idea of camping but not so much the inconvenience and still want a sanctuary from the elements and a comfy bed to sleep in then this place is ideal. That's why it's known as the "Congo Camp House", a name given to it by a four year girl called Amelie. This is sort of seven star camping!! I want to STRESS it's NOT a hotel! There's going to be cobwebs here and there although i try to stay on top of that and there will be dust from time to time, especially in the outside kitchen. We get little visitors like possums and bush rats in the kitchen and there's usually lots of birds hanging around and occasionally wallabies and kangaroos pass through. It's very much a bush experience and not for those expecting Hyatt style luxury. I want to stress this is a "Camp House" and it wont always be pristine and sometimes that will also depend on just how well the previous guest cleans the place...The Jarrah kitchen is actually outside on a big timber deck, under, cover of course, and sheltered from the southerlies. Sometimes the Kookaburras will come and steal food from right under your nose, WHILE you are cooking and there will be mosquitos sometimes and moths and beetles. You are living in the elements just like if you were camping. If its raining and cold lying on the cosy couch in front of the little potbelly stove reading a book while listening to the rain on a tin roof is just wonderful anyway. There are insect screens throughout and upstairs there's a big mosquito net so inside you are generally protected from the bugs unless you've left the doors open...From the start we wanted to limit our impact on the five acre forest it's nestled in because it's home to lots of wildlife and we tried to use recycled products where ever possible. So the Camp House features lots of beautiful recycled hardwood timber that used to be joists and bearers from old homes and it's lined with lime washed plantation hoop pine. The doors and windows were sourced as second hand castaways. The insulation is made from PET plastic bottles and the building is sited so that we can make the most of the northern sun in winter. The end result is an amazing little building that seems to belong where it is within the forest...There is the master loft with queen size bed upstairs which offers beautiful views of the forest and two small and cosy bedrooms downstairs (two single beds and a double)...So far as we know just about everyone who's stayed at the Camp House loves the place. It rarely fails to impress. It's very private. The outlook is pretty much just forest. Its simple, unhurried, peaceful and at nights we generally sit around the fire and talk or play music. We really like that mostly the people who stay understand and appreciate what we have tried to create here and so far everyone has treated the camp house and the forest with great respect. It's a great place to escape to...There nearest shops are in the small country town of Moruya about seven minutes drive away and where you can get just about anything you need food-wise. There is a bus service that runs between Sydney and Moruya but you'd need a car to get to the Camp House from Moruya. The coastline of the Eurobodlla is arguably the most beautiful and most wild coastline in NSW and mostly national park. There are so many beautiful and wild beaches to go to and an amazing array of national park destinations nearby.
---
Our Features
Dining Setting
Fridge/s
Linen Hire or BYO
Bath
BBQ Facilities
Outdoor Entertainment Area
Outdoor Furniture
Boat/Trailer Parking
Off-Street parking
Non-smoking Venue
---
Nearby Activities & Features
Boating/Sailing
Bushwalking
Cycling/Bike Trails
Fishing
Rock Climbing
Surfing
Swimming
Walking Tracks/Trails
---
Location Map