---
Bogong Alpine Village - Bogong - High Country - Vic
27 Main St, Bogong VIC 3699
Pet Friendly Accommodation - Holidays

Pet Friendly Cabins/Chalets
Pet Friendly Cottages/Houses
Pet Friendly Country Getaways
Pet Friendly Snowfields Houses/Chalets/Lodges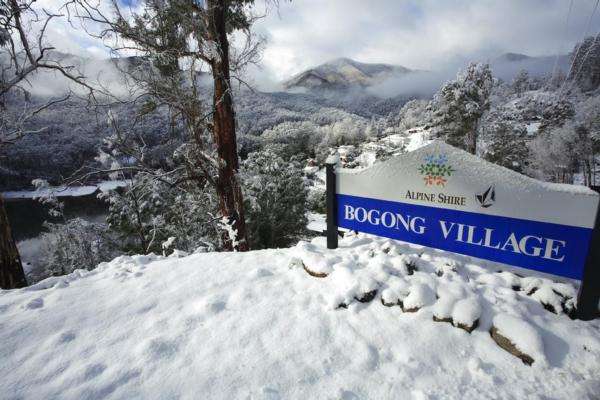 Bogong Alpine Village nestles in the foothills of the Victorian Alps midway between Mt Beauty and Falls Creek. The village contains twenty six self contained cottages, originally built for workers of the Kiewa hydro-electric scheme, now re-decorated and available as holiday rentals. Two, three and four bedroom cottages sit on the side of the valley overlooking the picturesque Lake Guy in beautiful European seasonal gardens surrounded by the Alpine National Park. As each house is individually owned only some are pet friendly, you will need to call us and request the most suitable house for your stay if bringing pets. It is important to note that as we are located in Alpine National Park cats are strictly forbidden however dogs and birds are welcome. At 800 metres above sea level, the village is just below the snow line. However, the occasional snowfall in winter can be expected. A stay in the village can be as adventurous or as relaxed as you like. Hike, stroll or amble around the lake or nearby trails, play tennis, catch trout in the lake or nearby mountain streams, and picnic or enjoy a BBQ by the lake or rivers. Or just relax and enjoy the splendid views and the fresh mountain air. The village is a great place for a range of adventure based activities and for exploring the mountains and valleys of North East Victoria such as the Bogong High Plains and Falls Creek.
Pricing Information
The cost of a stay in the village varies depending on time of the year, and the number of bedrooms and AAA star rating for that the particular property.
As a village that was built to house workers on the Kiewa hydro scheme in the 1940s there is a similarity to the 26 weatherboard houses which vary in size from small cottage to moderate house.
Our star ratings range from 2 ½ to 4 star AAA rating.
Low season accommodation for 2 people starts at $109 per night or a 3 bedroom 2.5 star house for 6 guests starts at $139 up to $209 for a 4 star house. Public holidays and winter rates are higher. For more a specific costing go to Book Now or call the village on (03) 5754 1131 to discuss your requirements.
To check Availability and Pricing or to Make a Booking please click the following link
Availability, Pricing, Bookings
---
Contact Information
Enquire Now
Book Online
---
---
Catering For
---
Pet Features & Rules
Pets Welcome Inside
No Pets on Furnishings
Pets Welcome to Sleep in Laundry
BYO Pet Bedding
BYO Pet Food Bowls
Outside Pets Welcome
Pets to be on lead at all times
Selected Pet Friendly Cabins/Rooms
Pets Welcome By Prior Arrangement
---
Description
Twenty six cottages sit nestled on the side of a small valley surrounded by the Alpine National Park. The main street winds its way down from the Bogong High Plains Rd to Lake Guy at its base. Laneways divert to terraces where these cottages sit amongst European gardens. Each cottage is individually owned and reflects the owners taste, personality and budget. All cottages are fully self-contained with a well-equipped kitchen and a good sized living room, plus laundries/drying rooms. All rooms are heated and bed linen is supplied or fitted depending on the star rating. Please note that sheets and towels are not provided in 2.5 star cottages. Many cottages provide DVD, music, books and games and may have a wood heater, spa, barbeque or dishwasher.
The village and local area provides a wealth of activites. You can take to the walking trails, play tennis, swim or fish in the mountain streams or simply relax and soak up the mountains of fresh air and scenery. Within the village, on your doorstep, you can explore beautiful lake and river frontage picnic and BBQ areas and walk around the lake or 1km up the road walk to Fainter falls. Beyond the Village, a short uphill drive takes you to Falls Creek for downhill and cross country skiing in winter. The Bogong High Plains with its alpine meadows, ancient snow gums and iconic cattleman's huts is only a short trip away for walkers (or amblers) who want to "stroll across the top of the world" to experience amazing vistas and visit some of our mountain heritage…. and further afield...The newly sealed Bogong High Plains Road between Falls Creek and the Omeo Highway now makes this part of the High Country more accessible to motorists and motor cyclists. Rock for the road base came from the construction of the tunnel for the new Bogong Power Station...Take a 240km road trip across some of Australia's highest roads, heading uphill through Falls creek and Anglers rest to Omeo then back through Mt Hotham Bright and Mt Beauty and all the little places in between.....Downhill.....A short downhill drive from the village takes you to Mt Beauty and the Kiewa Valley where you can enjoy the delights of the eateries and wineries or if you're feeling more adventurous, play golf, go horse riding, gliding or paragliding…. and further afieldThere are a range of driving routes which take you to the Alpine Region's premier wine and food destinations of the King and Ovens valleys....If history is more to your liking the historic gold mining towns of Harrietville, Yackandandah and Beechworth are also within easy reach.
---
Our Features
COTTAGE
SELF-CONTAINED
2 BEDROOMS
3 BEDROOMS
SLEEPS 2
SLEEPS 4
SLEEPS 6
SLEEPS 8
Heating
Gas Heating
No Phone/Internet
TV/s
DVD Player
Family Room/s
Dining Setting
Oven
Microwave
Fridge/s
Quality Appliances
Cooking/Kitchen utensils
Porta Cot/s
Linen (Supplied)
Shower/s
Shower (Over Bath)
Vanity Basin
Towels Supplied
Washing Machine
BBQ Facilities
Established Gardens
Outdoor Furniture
Boat/Trailer Parking
Off-Street parking
Close to Beach/Waterfront
Drying Room
Excellent Views
Lake
Native Wildlife
Non-Smoking Inside
Non-smoking Venue
Picnic Area/s
Shaded Area/s
Walking Trails
Close to Bike/Rail Trail
Tennis Court
---
Nearby Activities & Features
Bushwalking
Fishing
Hire Boats/Pedal Boats/Kayaks/Canoes
Lake/s
Mountain Biking
Picnic/BBQ Areas
Snow Skiing
Swimming
Tennis
Walking Tracks/Trails
---
Location Map